July 13, 2023
Another BreyerFest has come and gone! Whether you were there in person or following the fun online, I hope you had a great time! (And if you're wondering what the fuss is about, check out breyerhorses.com for details!)
I'm thrilled to share that my custom model "Hambletina" won first place in the Finishwork division of the Best Customs Contest! She is the new Premier Club model "Constantia", which I've painted to a lovely soft dapple grey. She's truly an incredible model. When you look closer, you'll notice the hand-painted hair-by-hair details over her entire body: whorls on her forehead, neck, chest, and belly. Tiny veins, hair bumps, and handpainted horseshoes. Lifelike eyes...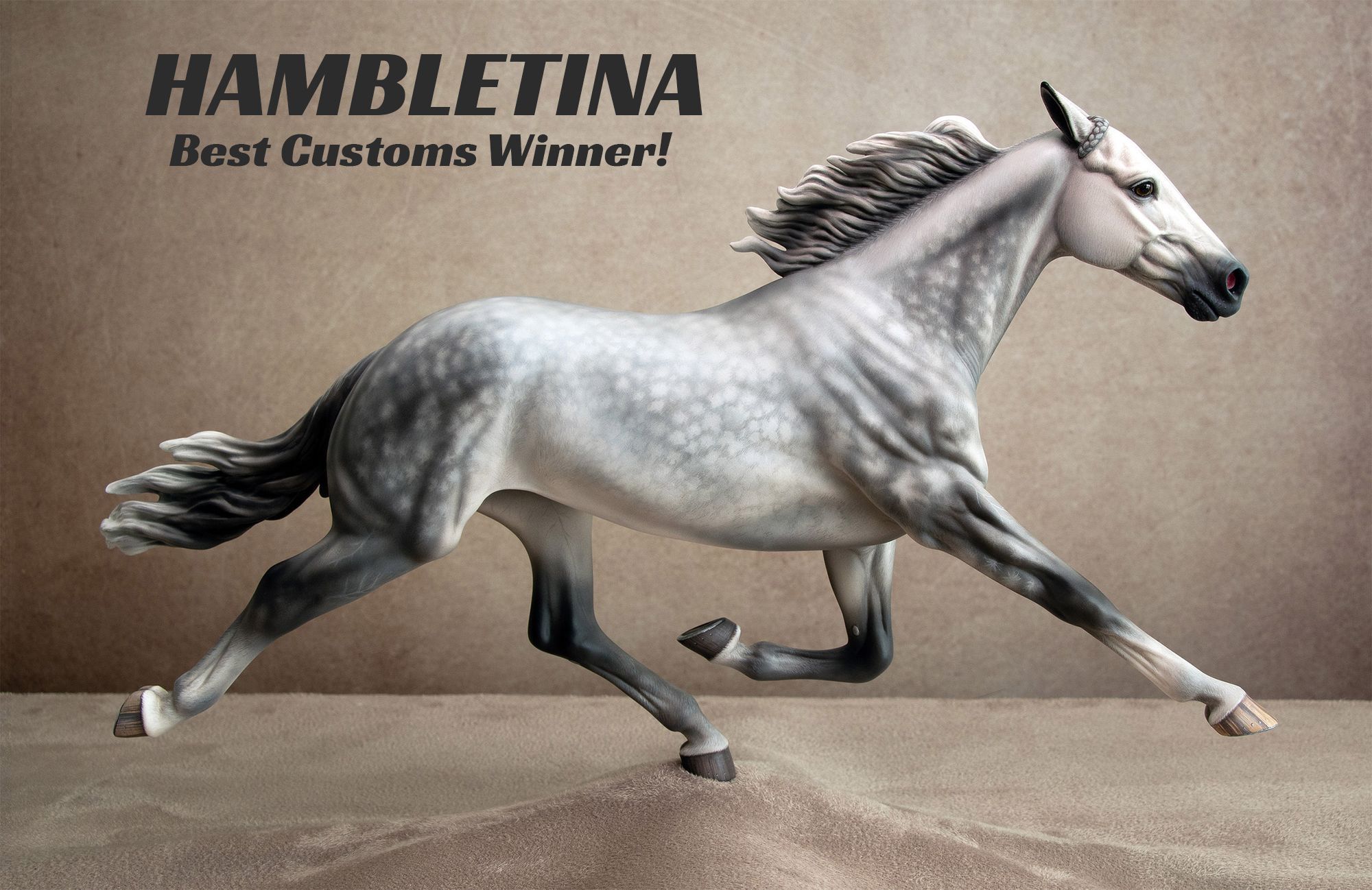 Hambletina is available! See more info and many more detail photos of her here!
I also have some smaller painted models on sale in my Online Shop:
Uptick-B (Bantam-scale) Jumper
This little dapple grey horse fits in the palm of your hand! Morgen Kilbourn's bantam-scaled jumper "Uptick-B" is a 3d printed resin, and is just 3.5" long from his front hoof to the tip of his tail! I've painted him to a gorgeous dapple grey, with hair by hair details, veins, and handpainted silver horseshoes. He comes with a wall-type show jump base, which I've painted to look like stonework. He also comes with a freestanding epoxy base; I made this so you can show him with other jumps!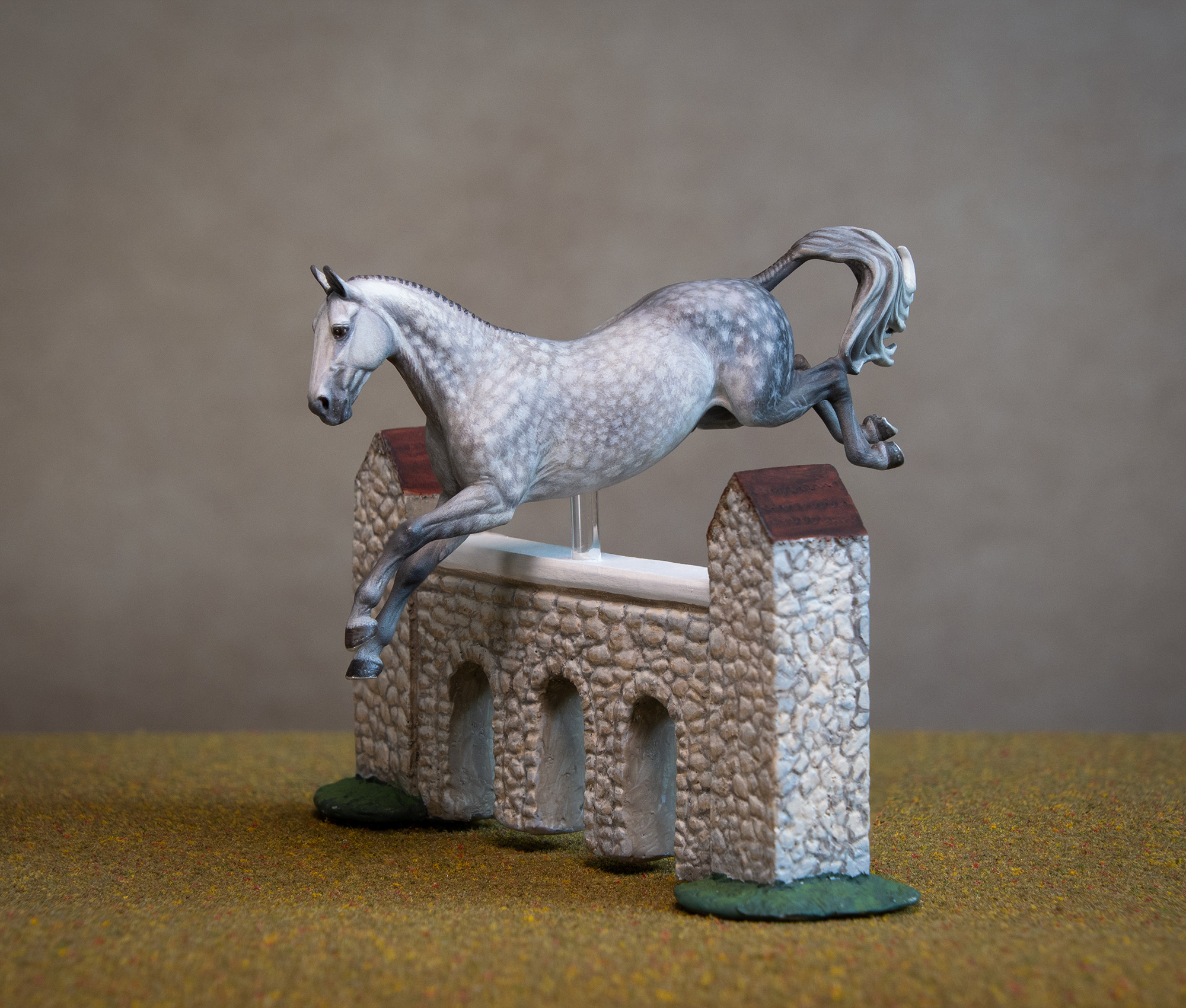 The Red Tails
Next up is an amazing micro-mini Pegasus mare and foal set! This is Alpheratz and Matar, a tiny pewter micro-mini (1:54 scale) pegasus mare and foal sculpted by Maggie Jenner-Bennett. I've painted them in the colors of red-tailed hawks, with dark sorrel topsides, lighter gold and cream-colored bellies and underwings, and fiery red tails! They have tons of intricate details and striping on their wings, and dashes of white on their feather-tips. They also come with a custom-made base, which I sculpted and painted to look like the red rock sandstone of the desert southwest.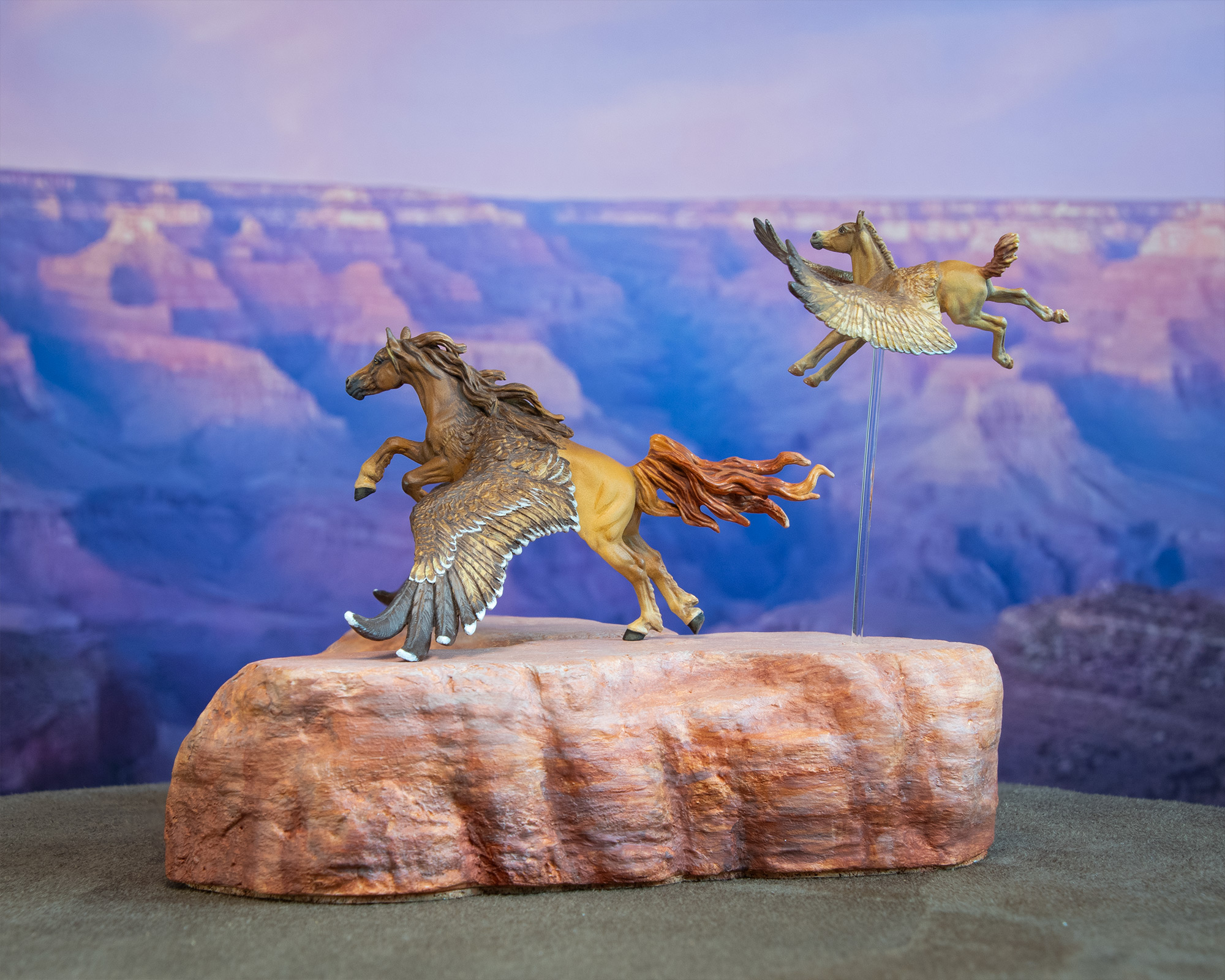 Mini Bristol
This is the "Wee Jay" resin, a shrinky version of Sommer Prosser's "Extreme Justice" resin, released in mini scale by Stacey Tumlinson in 2009. He's a large stablemate size, 6" long from nose to tail. I painted him to a lovely shaded buckskin tobiano pinto, with mapping on his markings, cat-track spots, striped hooves, and handpainted silver horseshoes.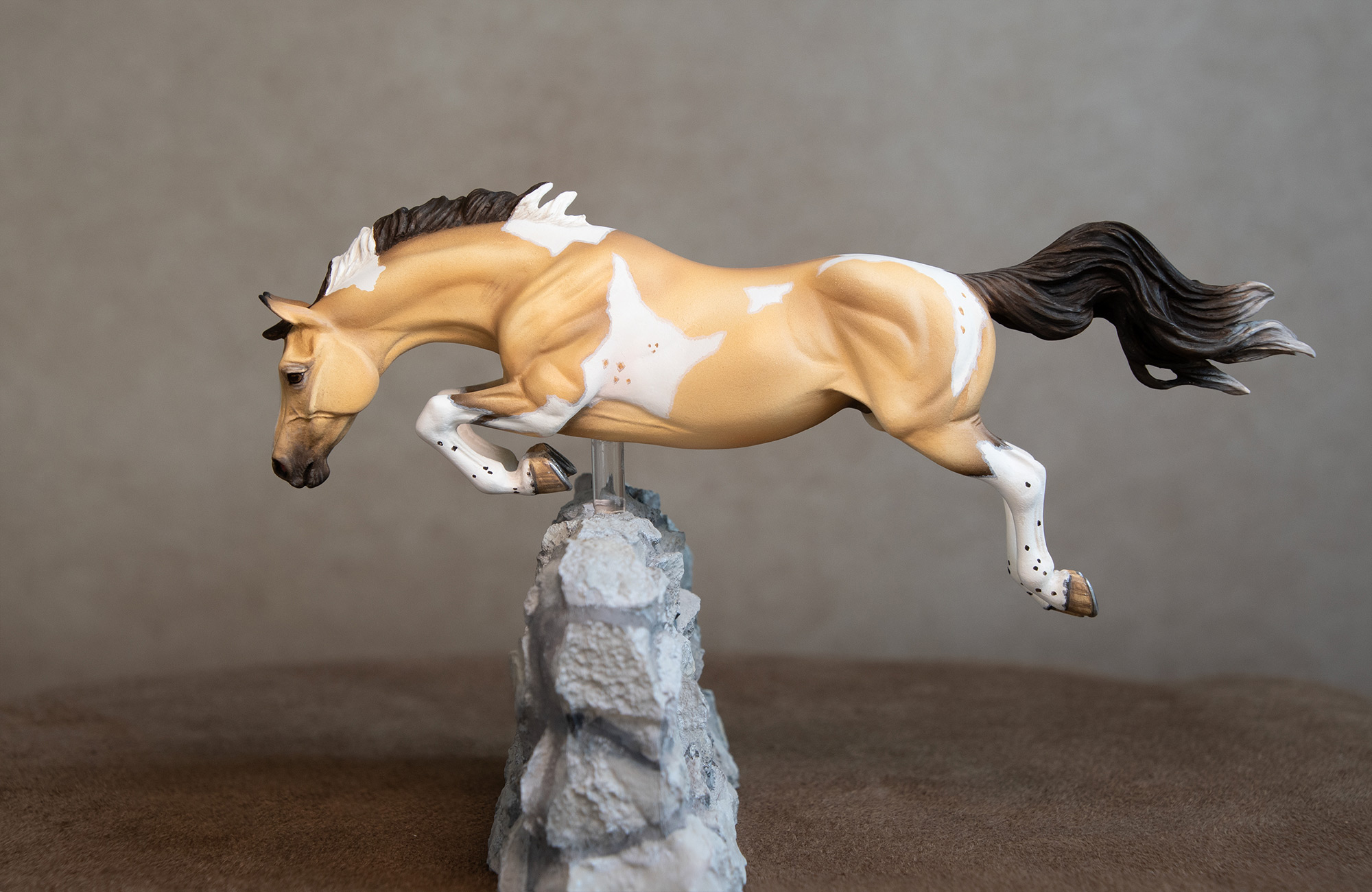 Shetland Cubequine
This little cutie is Sarah Minkiewicz's Shetland Pony Cubequine medallion, which I've painted to a dark chestnut with flaxen mane and tail. He has a bit of white on his face, high glossed eyes, and a detailed background quilt pattern in teal and maroon colors. The medallion has a magnet on the back so you can display it on a magnetic surface.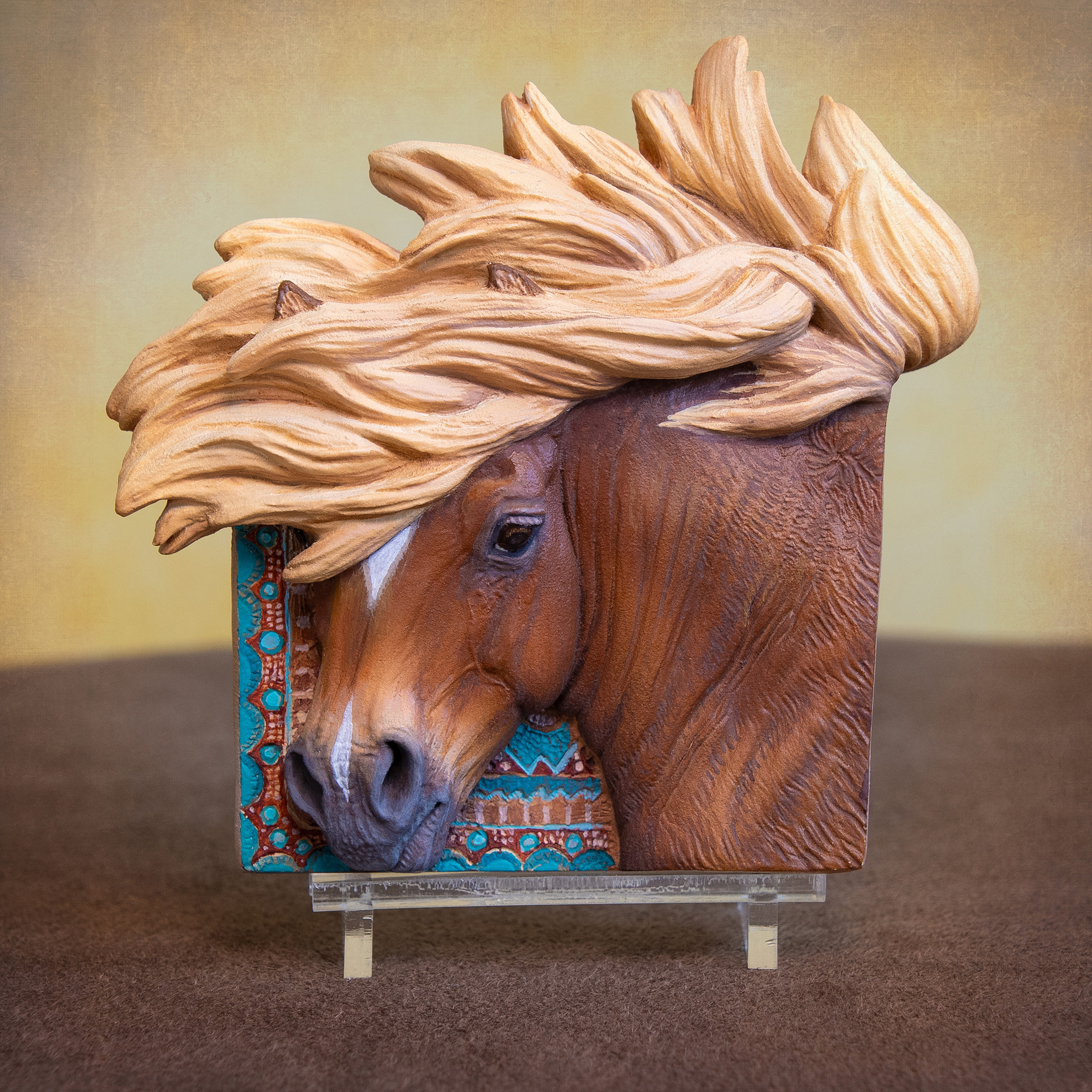 That's it for my Virtual Artisans Gallery offerings this year! If you like my work and would like to be notified when I have new painted pieces available, please join my mailing list!
-- Kira