April 4, 2011
This is part three of three entries ( part 1, part 2)
Live Oak Stud
Day 2 of the Sunshine Celebration consisted of horse farm tours during the day, and Arabian Nights that evening. My group visited Live Oak Stud in the morning. This place is huge (some 4700 acres) and diverse. They breed and train Thorougbreds for racing (although they didn't have any stallions in residence at the moment, only mares and foals). Chester Weber trains and competes in world-class team driving competitions. The farm also has some 600-head of cattle, mostly Wagyu cattle for Kobe beef.
Live Oak sends their mares to Lexington for breeding, then brings them back to Florida to foal. After the foals are born, they're handed off to surrogate nurse mares, so that the pedigreed broodmares can be sent back to Lexington to breed again. Once the youngsters are old enough, they're broken to ride, and trained for the track. My understanding was that a lot of the 2-year-olds are sent on to other trainers/barns to continue their racing careers. There's a 3/4 mile training track on the farm, with a beautiful huge old live oak by the track (actually there are beautiful old oaks all around the property... hence the farm name) :)
Chester Weber gave us a tour of the driving team barn. Great guy, he was really friendly and answered a lot of questions for us, and he clearly cares a lot for his horses. It seemed like he had about 8 horses there, although I didn't write down the names or details. Chester says he mostly uses Dutch Warmbloods, and wow, they're impressive! Big, alert, intelligent horses with great action.
We had lunch in a big tent at the farm, and afterwards Chester brought his team out and gave us a driving demo. Quite a treat! We also got to take pix of Jamaica, who is retiring from competition. He'll live out the rest of his days in a big grassy field on the farm.
Stephens Thoroughbreds
Saturday afternoon we visited Stephens Thoroughbreds, which was where Barbaro got his start. They also have a training track, and brought out a couple of horses to run for us (though they don't usually run 'em in the afternoon since it's too hot for it). We also got a look at Margano, a yearling full-brother to Barbaro! Maybe we'll see him on the track in 2013. :)
Arabian Nights
Saturday night was the Arabian Nights event. This was actually my least favorite of all the weekend's events; I'm not too comfortable around big crowds or lots of noise, and there was a lot of both here. The music was WAY too loud (I had to use my earplugs just to stand it), and the food was not very good. I did get a few nice pictures of the show:
Sunday
Sunday we got models, and the Confetti model is really quite nice! I didn't manage to snag any of the ultra-rare SR's, but did get Daytona and Cocoa Beach. Anyway it was a great weekend, and I hope Breyer will continue to do special events like these!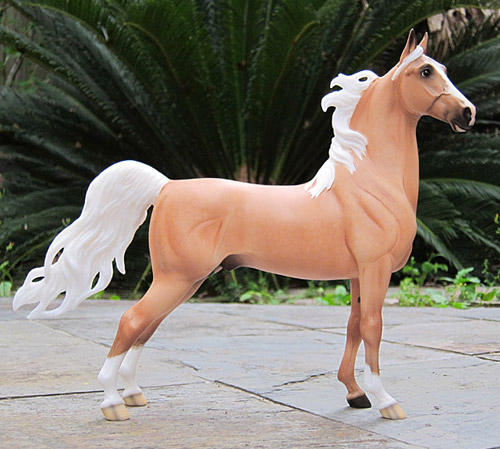 -- Kira